Dental Implants in State College, PA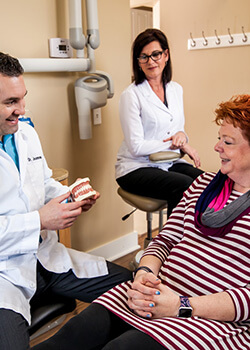 Dental Implants have revolutionized the way dentists are able to restore missing teeth. Implants mimic a natural tooth by acting as a "root" to secure the tooth into the jaw. An implant is made of titanium, which is lightweight, strong, and biocompatible, which means that it is not rejected by the body. Considering it is placed into the jaw, the implant is invisible on the outside surface and appears to be a patient's natural tooth. Contact Centre Cosmetic Dentistry to find out more today.
Implant Placement
In keeping with Dr. Robert Jeanmenne's dedication to team treatments, we partner with a local oral surgeon to ensure patients receive the safest, most effective dental implant placement possible. This minor surgical procedure requires the surgeon to make an incision in the gums, insert the implant post below the gum line, and place a protective cover over the implant site in order to allow for optimal healing. Over the course of three to six months, the dental implant fuses with the underlying bone and gum tissue creating a solid foundation to support a replacement tooth or teeth. We work with the oral surgeon through every step of the process from planning to placement and healing. Our team is the advocate for our patient, and we consider it our responsibility to ensure patients receive the highest quality service and care.
Implant Retained Crowns & Bridges
Traditional dental crowns and fixed bridges are used to replace between one and three consecutive missing teeth by placing a crown over the top of the two surrounding healthy teeth. These crowns anchor one or more replacement teeth into position. Dental implant supported crowns and bridges are similar. However, rather than placing these dental crowns over healthy teeth, crowns are attached to one or two dental implants. To replace a single missing tooth, one implant post can be restored with an individual dental crown. In most cases, two consecutive missing teeth can also be restored with a single implant post by connecting two dental crowns and attaching them to the same implant. Three to four consecutive teeth can be replaced with a bridge appliance attached to an implant post on either end of the replacement teeth for support.
Implant Retained Prosthetics
Patients with more extensive tooth loss may need implant-retained partial or full dentures. Partial dentures, often referred to simply as partials, fill gaps in patients' smiles replacing any number of consecutive or nonconsecutive missing teeth. Like their traditional counterparts, implant supported partials are composed of teeth set into a gum colored base that is molded to fill gaps in patients' smiles. Instead of connecting to healthy teeth, the partials are supported by a number of implant posts strategically placed to provide optimal support with the most minimally invasive surgical procedure. Full dentures are similarly crafted, but rather than replacement teeth and base crafted to fit around remaining teeth, a full denture restores an entire row of lost dental structure. Traditional, removable dentures are formed to create natural suction between the denture and gums, which holds these prosthetics in place. Dental implant-retained dentures anchor the gum-colored base to between four and six implant posts.
All-on-4
Patients who have previously been told they are unable to receive an implant supported denture due to insufficient jawbone density and those who wish to have a denture placed on the same day as their implants, may want to consider the All-on-4 dental implant tooth replacement method. This specialized implant technique allows Dr. Jeanmenne and the oral surgeon to attach a full denture to just four strategically positioned dental implant posts. Relying on the naturally denser part of the jawbone at the front of the mouth, the surgeon places two implant posts vertically into the gums to anchor the front of the denture. Then, two implants are placed diagonally into the gums at the back of the mouth, but anchoring the bottom of the implant into the front of the jawbone. In most All-on-4 cases, we're able to attach a temporary denture on the same day that we complete implant placement.