Quality Restorative Dentistry in State College, PA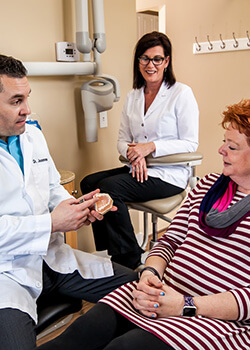 Restorative Dentistry is the process of rebuilding a patient's mouth to optimum health. Unfortunately, over time, most patients experience the loss of teeth that results in health issues, trouble eating, or even embarrassment. Some of the most common ways to restore missing teeth are through the placement of implants or utilizing dentures or partials. Whatever amount of decay or damage patients experience, the Centre Cosmetic Dentistry team is here to help restore the appearance and function of patients' smiles. Contact our team to find out more or schedule an appointment today.
Crowns and Bridges
Dental crowns are extremely versatile restorative dentistry solutions that allow Dr. Robert Jeanmenne and his team to restore the full shape, structure, and strength of damaged or decayed teeth. Dental crowns fit completely over the top of a damaged tooth protecting and restoring teeth. We can craft crowns from a variety of high quality materials including gold, porcelain bonded to metal, and all-ceramic. Regardless of the material, patients should plan to visit our office at least two times. During the first appointment, we prepare teeth, capture impressions, and place a temporary crown to protect the prepared tooth. Once we receive the custom restoration from the lab, patients return to our office to exchange the temporary for the final crown. Dental crowns may be recommended in the following situations:
Decay or damage too severe to be restored with more conservative treatments
Cosmetic flaws that cannot be corrected or concealed with other cosmetic solutions
To protect root canal treated teeth and fully restore the form and function of damaged teeth
To replace a single tooth, we may attach a dental crown to an implant post
To replace one to three consecutive teeth, we can craft a dental crown supported fixed bridge by attaching dental crowns to two surrounding healthy teeth
Premium Dentures & Partials
Dentures and partials are removable appliances to replace a few or all of your missing teeth. They are custom fabricated to each patient to look and feel like natural teeth. Whether you need to have teeth extracted and you do not want to go without teeth or you've already been missing teeth and are looking to replace them now, we can help. Partial dentures are crafted to replace any number of consecutive or nonconsecutive missing teeth. The prosthetic teeth are attached to a gum-colored base that is shaped to fill the gaps in patients' smiles. The entire partial denture is held in position with metal clasps connected to remaining teeth. Full dentures combine a complete arch of replacement teeth with a base that is crafted to fit against healthy gum tissue. This custom fit tooth replacement solution fits snugly against the gums and jawbone creating suction that stabilizes the denture. In some cases, patients need to use a small amount of denture adhesive to provide additional support for their dentures.
Hybrid Dentures
Missing all of your teeth but want something more secure or non-removable? Hybrid dentures are the best of both worlds. They utilize dental implants to securely hold a denture in place. These hybrid dentures can either "snap" in place so they are secure but allow the patient to "unsnap" them from the implants to remove as needed. Hybrid dentures can also be screwed into the implants so they are virtually permanent teeth. These amazing appliances are the ultimate way to restore a patient's mouth to look and feel like their natural teeth.