Picture Perfect Smile with Invisalign® in State College, PA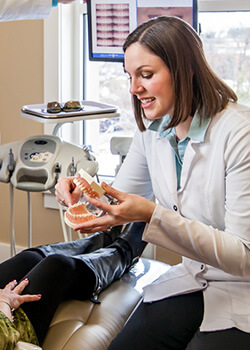 Want straighter teeth without the hassle? Invisalign is a great alternative to traditional metal brackets that are nearly invisible. The removable trays are custom fit to each patient to precisely move the teeth to their desired position while also allowing the patient to remove the trays as needed to eat and clean teeth. Invisalign is becoming the most popular form of orthodontic treatment for patients due to its comfort, convenience, and the confidence you'll gain when no one notices you are wearing your trays. Contact Centre Cosmetic Dentistry to find out more or schedule an Invisalign consultation today.
Preparation Visit
The first step in the Invisalign process is the orthodontic consultation. We capture photos and x-rays of patients' teeth and underlying dental structures, and Dr. Robert Jeanmenne carefully examines these images discussing possible results, treatment time, and more with patients. If we determine that Invisalign is the right solution, we will capture further diagnostic information, including bite impressions. Once the diagnostic information is collected, we create a step-by-step plan to shift teeth from their current position to the ideal alignment.
The Invisalign Process
Once we have a plan for treatment, we craft a series of clear, plastic alignment trays that represent a step closer to the final result. Patients wear each set of aligners for about two weeks before exchanging them for the next set in the series. Unlike traditional braces, patients don't need to make multiple, lengthy visits to an orthodontist, but we will need patients to visit our office about every six weeks. These brief appointments allow our team to evaluate patients' progress to ensure their smiles are shifting according to plan. After about twelve months of treatment, patients should achieve their desired results.
Benefits of Invisalign Orthodontic Treatment
Reduce treatment time overall compared with traditional orthodontics that require two or more years to conclude
Fewer, shorter checkups are required throughout the course of care which is beneficial for busy teens or adults
Aligners are almost completely invisible to the naked eye making them the cosmetically superior choice
No need to change diet or oral hygiene routines as is necessary with traditional bracket and wire braces, simply remove the alignment trays during meals or while brushing and flossing
Most patients report relatively low levels of pain or discomfort during treatment