September 30, 2017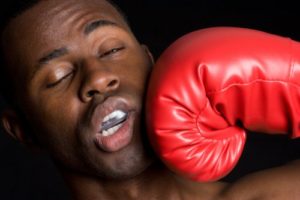 Sometimes, athletes are great role models. At other times… not so much. They may have a great work ethic and try to contribute to the well-being of their communities, but may also do things that make us cringe. In 2015, Dennis Schroder, a point guard for the Atlanta Hawks, got his tooth knocked out. Dental professionals watched in horror as he nonchalantly picked up the tooth, tucked it into his sweaty left sock, and continued to play. We hope you never suffer from an avulsed (knocked-out) tooth, but if you do, don't follow in Schroder's footsteps. Follow these steps instead:
Store and Handle the Tooth Properly
Don't put the tooth in your sock! If you store the tooth properly, it is possible that your dentist will be able to reattach it so your smile doesn't have to suffer from a brand-new gap. Be sure you:
Only touch the tooth's crown (the part your normally see above your gum line).
If it has debris on it, gently rinse it in water or milk.
Try to reinsert the tooth into its original socket and keep it there until you can get to the dentist. If that isn't possible, keep it in a glass of milk or water.
Get to Your Dentist as Soon as Possible
Your cosmetic dentist in Stage College, PA, is glad to help with all of your dental needs, so call the office as soon as you realize you lost a tooth. If they know you're coming, your dentist is more likely to be able to see you right away. The sooner you receive professional attention, the more likely it is that the tooth can be reattached.
Exactly what steps your dentist takes will depend on your unique situation. It's possible that they'll splint the tooth into its original socket with a soft wire or other material. The splint will keep the tooth in place until your body has had enough time to bond with it again. It might take several weeks for your tooth to firmly reattach to your jaw.
Your dentist will also be able to assess your overall oral health and let you know if the impact caused any other damage that needs treatment.
Follow Your Dentist's Instructions
Be diligent about following any instructions your dentist gives you about what to do after your treatment. You may need to avoid chewing on the side of your mouth where your tooth got knocked out, take a leave of absence from your sports team, and take medications to help with the pain and fight infection.
An avulsed tooth might not be a big deal in the NBA, but in real life, it's is a big deal. If it ever happens to you, get to your dentist ASAP so your smile can continue to shine brightly.
About the Dentist
Dr. Robert Jeanmenne is passionate about providing top-notch dental care to his patients. Whether you just lost a tooth or are looking to replace one that was lost a long time ago, he and his team are ready to leap into action. When your smile needs a helping hand, contact us at 814-238-2020.
Comments Off

on Tooth Knocked Out? Not a Big Deal in the NBA, Apparently
No Comments
No comments yet.
RSS feed for comments on this post.
Sorry, the comment form is closed at this time.