October 3, 2017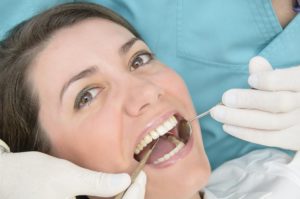 The short answer is yes, but there's an important reason for this that many patients don't know about. Recent research indicates that oral cancer claims one life an hour in the US. Additionally, 50% of patients diagnosed with oral cancer do not live more than five years beyond this diagnosis. Taking these startling statistics, the Oral Cancer Foundation conducted additional research to determine the best way to decrease annual deaths related oral cancer. The results of their study indicated that early diagnosis was the most important factor in successfully treating oral cancer. That's why most dental offices and some medical practices, will screen for oral cancer as part of regular preventive checkups.

Risk Factors for Oral Cancer
Many patients think that tobacco use is the only risk factor for oral cancer. Actually, it's just one of the many things that may increase risk for this disease. Some of the other risk factors include:
2nd hand smoke
Human Papilloma Virus
Excessive alcohol consumption
Genetic predisposition – family heredity
Warning Signs of Oral Cancer
Ask your dentist whether or not they screen for oral cancer. This is essential to ensure diagnosis in the earliest stages. However, you should also know the warning signs that can indicate oral cancer. You should let a trusted dentist or medical professional know right away if you notice any of the following symptoms:
New lumps or bumps in oral or facial soft tissue
Changes in the texture of soft tissue
Red, white, or discolored soft tissue
Hoarse voice or sore throat
Swollen lymph nodes
Oral Cancer Screenings
Some dentists perform simple visual screenings for oral cancer. These vary in effectiveness based on how familiar the dentist is with a specific patient. Dentists who see the same patient twice a year for decades are much more likely to notice even the minutest changes. However, the VELScope system uses a specialized light to reveal areas of soft tissue that may contain cellular irregularities indicative of oral cancer. The VELScope system allows a dentist to diagnose oral cancer in the earliest stages for every patient.
Meet the Centre Cosmetic Dentistry Team
If you're new to the area or looking for a new dentist in State College, contact Centre Cosmetic Dentistry. Our caring dental team will be happy to walk you through all of the ins and outs of oral cancer, provide a complete oral cancer screening, and partner with you to maintain a flawless healthy smile. We are passionate about helping every patient stay healthy. Come back to read our blog regularly to learn more about the services we offer.
Comments Off

on Do I Need an Oral Cancer Screening if I Don't Smoke?
No Comments
No comments yet.
RSS feed for comments on this post.
Sorry, the comment form is closed at this time.