October 5, 2017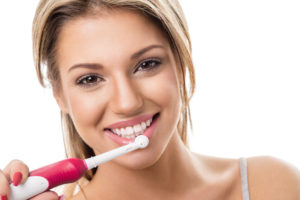 Do you feel like you're always getting cavities, even as your friends come away from visits to the dentist scot-free? That doesn't necessarily mean you have worse dental hygiene or that you've got more of a sweet tooth than they do. According to your dentist and a recent study published in the journal Cell Host & Microbe, some people are actually genetically predisposed to cavities. If your grandparents had a lot of cavities despite good brushing and flossing habits, chances are you will, too.
Keep reading to find out what's going on inside your mouth that creates the environment for decay to form. Then, learn our top tips for prevention — for a healthy, beautiful, and long-lasting smile!
Are You At Risk of Cavities?
It may come as a relief to know that, yes, you can be at a higher risk of cavities than other people due to something beyond your control. It often has to do with the way the bacteria in your mouth reacts with the sugars in what you eat and drink. You may be genetically predisposed to weaker tooth enamel, too. That combination leads to cavities in quick succession.
In addition to genetics, some of the factors that can increase your risk of tooth decay include:
Insufficient oral hygiene habits

Older age

Imbalanced diet or high sugar consumption

Smoking and tobacco use
People who are more vulnerable to cavities due to genetic factors should be especially vigilant about prevention if they also have one of the above risk factors.
Prevention Is Key
Stellar oral hygiene is mandatory if you are at an increased risk of developing cavities. That includes brushing your teeth for two minutes, at least twice a day — and if you're really trying hard to keep your smile clean, cleaning after each meal is even better. Flossing daily is crucial, too, as it removes the bacteria and food particles your toothbrush just can't reach.
Patients of all ages should also visit the dentist every six months at least. During a checkup and cleaning, our hygiene team will remove the biofilm that leads to cavities. Then, with the help of x-rays, we will check for cavities on the surface of, between, and underneath the teeth. Weak spots on the tooth enamel can often be strengthened with fluoride to keep a cavity from forming at all.
Visit Your Dentist This Month!
When was your last visit to the dentist? Now that you know you can be at a higher risk of developing cavities, it's a perfect time to discuss prevention with your favorite dental team. If it's been longer than six months, don't wait to schedule an appointment! Your healthy smile depends on routine preventive care.
About the Author
Dr. Robert Jeanmenne practices superior general and cosmetic dentistry from his state-of-the-art practice in State College, PA, Centre Cosmetic Dentistry. To learn more about his services, cavity prevention, or to schedule an appointment for high quality dental care, please contact the office at 814-238-2020.
Comments Off

on Dentist Says Genes Can Determine Frequency of Decay
No Comments
No comments yet.
RSS feed for comments on this post.
Sorry, the comment form is closed at this time.