October 27, 2017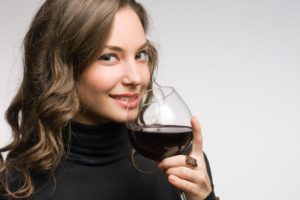 Drinking red wine is always fun and games—until you look in the mirror. The last time you glanced at your smile you had white teeth staring back at you. Now, you can't tell the difference between the grapes your wine is made of and the stains on your teeth!
If you're sick and tired of stains taking the fun out of your wine-sipping hobby, your dentist is here to help you!
First, Understand Why Wine Stains Your Teeth
There are two main types of tooth stains: extrinsic and intrinsic. Each type of staining may require different types of teeth whitening to lift the stains.
Extrinsic
Extrinsic discoloration is commonly known as surface level staining. These types of stains can develop from coffee, wine, smoking or using tobacco. Although many people may turn to over the counter products for surface level stains, the best, guaranteed way to lift those pesky wine stains is with professional teeth whitening from a dental professional.
Intrinsic
Beneath the thin, enamel layer on the surface is dentin. Intrinsic staining is the discoloration of the dentin layer and has many causes that go even further than the occasional wine glass. But, if you do sip red wine often and never whiten your teeth, you could experience deep-penetrating stains.
You Can Prevent Wine Teeth
To prevent shady-teeth horror stories, you can moderate your red wine intake. There are many patients that roll their eyes to that suggestion. If you're not willing to give up your red wine habit, you can also try drinking it from a straw to avoid contact with your teeth.
Oenophilia, a company that specializes in the finest wine and bar accessories, has kept you in mind! They offer a wine accessory that has a built-in straw feature to prevent teeth from getting stained. For just a small investment, you can keep your teeth whiter for much longer!
Your Dentist is Here to Help
Believe it or not, dentists are people, too! Just like many patients, dentists love red wine just as much as they love a white smile.  That's why many offices offer professional grade teeth whitening to lift surface level and deeply set stains.
If you're interested in exploring in-office Zoom! teeth whitening or take-home products, feel free to contact your local practice for more information!
---
About Our Office
Here at Centre Cosmetic Dentistry, we take pride in being your trusted dental team. That's why we offer a wide variety of dental services including professional whitening treatments. We want your smile to be attractive just as much as we want it to be  healthy! Feel free to contact us if you would like to speak to our expert dentist, Dr. Robert Jeanmenne, about how we can help you reach and maintain your smile goals.
Comments Off

on Dentist Asks, "Are You Sick of Whining About Wine Teeth?"
No Comments
No comments yet.
RSS feed for comments on this post.
Sorry, the comment form is closed at this time.