November 4, 2017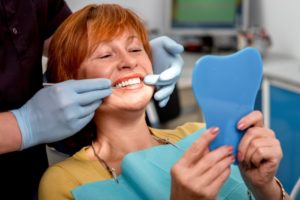 You've never been one to complain much. You just take life as it comes and continue to push ahead. But, recently you've really been bothered by your tooth loss. You look at old family photos and notice how you are smiling with a wide, joyful grin. And you miss those days, because since you lost your teeth you rarely take photos, and you hardly ever smile. You want to rekindle that spark inside of yourself and regain your confidence. Thankfully, your dentist in State College has a solution that will restore your self-esteem: dental implants. Learn more about this procedure and its 3 benefits for you.
What is a Dental Implant?
A dental implant is an oral surgery procedure that restores the normal function of your entire jawbone structure by replacing missing teeth. The procedure involves inserting titanium posts under your gums and into the bone structure. After a period of healing, where your jawbone fuses with the titanium, you will return to your dentist to have either the crown, bridge or dentures attached.
Crowns are used for 1 to 2 missing teeth, but if there are 3 or more consecutive teeth missing, then a bridge is used. Implant-supported dentures are used for more severe tooth loss, and differ from traditional dentures in that they are attached to implant posts, instead of just relying on an adhesive.
The 3 Benefits of Dental Implants
There are a multitude of benefits of choosing dental implants, but here are 3 that really stand out.
Restores Your Normal Function – Your dental implants will completely restore your normal function, meaning that you can once again eat the foods that you love. You will also be able to speak normally.
Boosts Your Self-Confidence – Studies show that having a positive attitude about yourself has several health benefits. Having a beautiful smile again will definitely make you feel a million times better.
Durability – When you make your investment, you want something that is durable. Unlike traditional dentures, with your dental implants in State College, you won't have to worry about them falling out of your mouth and breaking. Your crowns, bridges or dentures will be attached to your implants and typically last up to 10 years.
Now that you've regained your confidence, you're ready to live life to its fullest again. Where as you were once just hoping to add years to your life, you are now able to add life to your years.
About the Author
Robert Jeanmenne, DDS has been practicing dentistry and dental sleep medicine since 2001. Focused on building relationships, Dr. Jeanmenne enjoys helping his patients achieve their goals, and hand-picked his staff with that in mind. He practices at Centre Cosmetic Dentistry and can be reached for more information through his website.
Comments Off

on Your Dentist in State College Explains the Top 3 Benefits of Dental Implants
No Comments
No comments yet.
RSS feed for comments on this post.
Sorry, the comment form is closed at this time.