December 8, 2017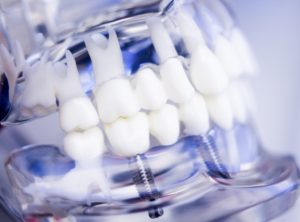 Tooth loss can be a traumatic time for you. How do you cope with the absence of a structure that's been with you for the majority of your life? The great irony is that you can still remember losing your first tooth as a child. Oh, the joy and excitement it brought everyone. But now you're in a different phase of your life. Your current situation doesn't leave you celebratory at all. You want to replace your teeth, but you're not sure which route to take. Dental implants of State College are an option, but you want to make sure that it's the right choice. Learn more about the process.
What are Dental Implants?
Dental implants are surgically inserted titanium posts that function like the roots of your teeth. Your dentist will attach them to your jawbone. Because titanium is biocompatible, your cells recognize it as familiar and will fuse with it during the healing process.
After this initial phase, you will return to your dentist to have either crowns, bridges or dentures attached to your implants. The choice of application depends on your specific needs:
Crown – A crown can be used in situations where there are one or more teeth missing in a non-consecutive pattern.
Bridge – In cases where there are consecutive teeth missing, a bridge is more helpful because several crowns can be attached at once.
Dentures – Implanted-retained dentures (prosthetics) differ from traditional ones in that they are much more durable and stable. This is an option for cases of more severe tooth loss.
Are Implants Right for You?
The best way to determine if dental implants are right for you is to visit your dentist in State College to make sure that you have enough jawbone to attach an implant to. Other than that, if you are suffering from tooth loss and desire to offset the bone degeneration and facial collapse that can happen as a result, this is the best solution for you.
This procedure will also restore your smile and confidence. And feeling good about yourself is just as important as having proper function, because a positive mindset is essential to your total wellness.
About the Author
Dr. Robert Jeanmenne has 17 years of experience practicing dentistry and has completed rigorous educational and hands-on training, to excel and continue to grow as a dentist. He practices at Centre Cosmetic Dentistry and can be reached for more information through his website.
Comments Off

on Are Dental Implants of State College Right for Me?
No Comments
No comments yet.
RSS feed for comments on this post.
Sorry, the comment form is closed at this time.