December 16, 2017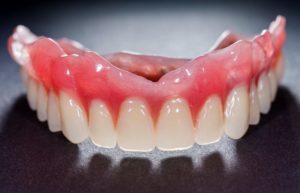 Looking for a tooth-replacement treatment can be difficult at first. Dentists all over the country are introducing new and improved methods for rebuilding smiles, but it shouldn't be difficult to understand the pros and cons of them. Luckily, your dentist in State College has made this process easy.
If you're considering dentures, whether partial, full, or even hybrid, see what pros and cons you can expect before committing; you'll be glad you took the time to stay informed.
When Dentures Might Be the Option For You
Compared to other tooth-replacement methods, dentures are usually cheaper up front and offer a short-term price point. Dentures are can also be produced more quickly so you don't have to go through a healing process to have a new smile. Part of this quick production is the accessibility dentists have to the materials needed to produce dentures. Dentists don't need exotic materials or super precise customization to make them work, so you can get your smile quickly.
Dentures are typically produced within days and, depending on the technology available in your practice's office, even hours. Advances in dental technology have made this process quicker and since dentures have been around for centuries, there are many sources available to you to choose from.
To summarize, dentures tend to be cheaper and quicker than other methods, but there are setbacks to keep in mind.
When You Should Reconsider Dentures
In the long-term, dentures can actually be less cost effective because they don't last as long as other replacement methods, such as dental implants. You can expect to replace dentures every several years or so as they experience normal wear. Dentures are also not the most natural-looking solution to missing teeth so if you are afraid of people noticing your dentures, you should reconsider. Furthermore, you wouldn't want to be eating or talking and have them fall out or click. This is usually the main reason people opt for an alternative.
If you don't want to own another item that requires regular maintenance, you should know that dentures need to be cleaned outside the mouth and soaked overnight before wearing again. Dentures are not like natural teeth, so removing them may be a bit of hassle.
Finally, one of the most significant cons of dentures is its impact on your oral health. Dentures are known to cause bone loss in the areas they replace teeth so this may cause your face to sag over time and eventually require you to buy new dentures to accommodate your face.
What Denture Types are Available Now?
If you're still considering dentures, you'll find there are many types available to you. This includes:
Partial Dentures – Ideal for patients missing a few teeth
Full Dentures – Meant to restore an entire row of teeth
Hybrid Dentures – The newest type of denture that attaches to dental implants in the mouth rather than with natural suction of metal clasps
To learn more about dentures in State College, schedule a consultation with your dentist today!
About the Author
Dr. Robert Jeanmenne, DDS, started as an Associate under the direction of two renowned general dentists before eventually starting his successful multi-doctor practice. He's became a prominent figure in the community thanks to the relationships he's built with patients and the rigorous, hands-on training he's done that let's him excel in the dental industry. To learn more about denture treatments he provides, contact his practice at (814) 238-2020 or visit his website.
Comments Off

on Should You Get Dentures? Find Out With Your Dentist in State College
No Comments
No comments yet.
RSS feed for comments on this post.
Sorry, the comment form is closed at this time.