January 9, 2018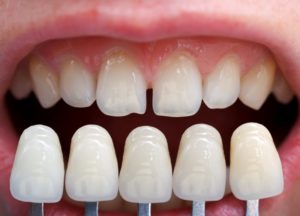 It's been so long since you've looked in the mirror and been happy with your smile. Not only have they become severely discolored, but that previous accident has permanently damaged your front tooth. Now you feel too self-conscious to even smile for family photos. But it doesn't have to be this way. There is a way to get the smile you used to have and more thanks to your dentist in State College. With porcelain veneers, you'll be proud to flash your new smile every chance you get.
We'll be discussing what porcelain veneers are, how treatment works, and the many benefits that come with them.
What are Porcelain Veneers?
Porcelain veneers are wafer-thin sheaths that cover the surface of your teeth and dramatically improve their appearance. They are capable of fixing many common issues patients have, including:
Discoloration
Chips and cracks
Misalignment
Noticeable gaps
Porcelain veneers make your smile look more uniform by blending in with the rest of your teeth. They make it easier for your dentist in State College to remove multiple imperfections simultaneously, giving you a smile you're guaranteed to love.
What Does Treatment Entail?
Treatment for porcelain veneers in State College generally takes place in two parts. To start, you'll have a consultation with the dentist to confirm you're eligible for veneers as well as build your treatment plan. After deciding which teeth you'd like to cover, the dentist will begin buffing your teeth down to make room for the veneers. You'll want to make absolutely sure that you want veneers before doing this irreversible step.
After taking an impression of your teeth, the dentist will send the mold to a dental lab where they will fabricate your veneers. During production, the teeth will be shaded and shaped to match the rest of your teeth. You'll also be given a temporary veneer to help you become adjusted before your permanent placement. At your second appointment, the dentist will swap the temporary veneer for your permanent one and bond it directly to your tooth.
What are the Benefits of Porcelain Veneers?
Your veneers are meant to be maintained just like the rest of your teeth. Not only will you have a smile that looks great, but it will feel great and function just like the rest of your teeth. This means regular brushing, flossing, and professional dental cleanings will make it last for many years.
Immediately, you'll notice a boost in your confidence and self-esteem now that you have a winning smile to show off. Studies have shown that those who smile more tend to have a more positive attitude. Additionally, people are more likely to find you more attractive and credible because you smile more often. If you have a career that relies heavily on your appearance, porcelain veneers will give you a noticeable boost.
Why wait any longer for the smile you deserve? Schedule a consultation with your cosmetic dentist in State College today!
About the Author
Dr. Robert Jeanmenne gained valuable experience working as an Associate under two renowned general dentists before opening Centre Cosmetic Dentistry. He's made it easy for patients to build a plan to reach their dental goals and create long-lasting relationships with his team of hand-picked dental experts. To learn more about his cosmetic treatments and practice, contact him at (814) 238-2020 or visit his website.
Comments Off

on Get the Smile of Your Dreams from Your Dentist in State College!
No Comments
No comments yet.
RSS feed for comments on this post.
Sorry, the comment form is closed at this time.