April 13, 2018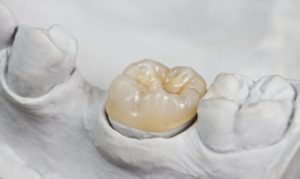 If you have dental decay, there's a chance that you may need dental crowns in State College to save your tooth. However, did you know there are many dental crowns to choose from? They all have their own special properties and uses, so your dentist wanted to briefly go over them so you can be better prepared before visiting.
Getting a crown is much better than the alternative; waiting for the decay to worsen and getting a tooth extraction. Let's get started!
What are Dental Crowns?
Dental crowns (or caps) are restorative dental devices designed to protect natural teeth. Natural teeth that have been damaged, either from an injury or decay-causing bacteria, can still be saved if enough natural tooth remains. To prevent future decay, prosthetic devices like dental crowns can seal your remaining healthy tooth away from bacteria.
To produce a crown, your dentist takes impressions of your mouth, then sends that impression to an offsite dental lab which fabricates it. During that time, you'll wear a temporary crown so you can acclimate yourself once the permanent crown is ready for placement. Once placed, your previously damaged teeth will be stronger, better protected, and have an improved appearance and alignment overall.
What Types of Dental Crowns are There?
There are typically four types of crowns to choose from your dentist. The one you choose will be based on your dentist's recommendation and on which tooth you intend on replacing. They include:
Ceramic – These are most commonly used on teeth that are visible in your smile. They are made of a porcelain-based material and are custom-shaded to blend in with the rest of your natural teeth.
Gold Alloys – It's all-metal counterpart, gold alloy crowns are a mix of gold, copper, and other metals. These provide a very strong bond to the tooth without wearing away the tooth itself.
Porcelain–fused to Metal – The best of both worlds, these crowns use a porcelain top and metal base, providing an extremely durable solution for restoring teeth.
Base Metal Alloys – Similar to gold alloys, except made of non-noble metals. These crowns are highly resistant to corrosion and require the least amount of tooth removal before fitting.
How Do They Differ?
If you're looking for durability, gold and metal alloy crowns last the longest. They are resistant to wear, yet gentle on opposing teeth. They are particularly useful for covering molars since they are the most susceptible to decay and tend to receive the most wear throughout life. Porcelain is typically less strong, but obviously more aesthetically pleasing than metal or gold crowns. While also resistant to wear, they can irritate opposing teeth if their adjacent surface becomes rough.
When properly cared for, dental crowns can last a very long time. As long as you brush twice a day, floss daily, and visit your dentist in State College every six months, you'll be well-protected. Schedule a visit with them today to find out which crown is best for you!
About the Author
Dr. Robert Jeanmenne holds a Doctor of Dental Surgery degree and has been practicing dentistry since 2001. To learn more about dental crowns or other methods in restorative dentistry, contact him at (814) 238-2020 or visit his website.
Comments Off

on Learn About the Different Types of Dental Crowns in State College
No Comments
No comments yet.
RSS feed for comments on this post.
Sorry, the comment form is closed at this time.